July 2011
As I mentioned in an earlier entry, there has been a lengthy drought in Shandong province, where I am staying. The lake just up the road from the school which supplies the farmers and villagers with 100% of their water requirements completely dried up and the school spring also ran dry
The school's headmaster made several trips to town to buy barrels of drinking water, so training continued without interruption for a while. But with the lake and river drying up, personal hygiene became a real issue. I was unable to shower or wash my clothes for nearly two weeks and all the time still  training 4 sessions a day in stifling heat. And of course there was nothing to flush the WC with so,  well - you can imagine the rest!
As there were only two students, including myself, at the school at that time, and since we both wanted to do a bit of travelling, it was decided to close the school for two weeks, allowing the masters, translators and other staff to go back to their homes where water may be more plentiful. 
.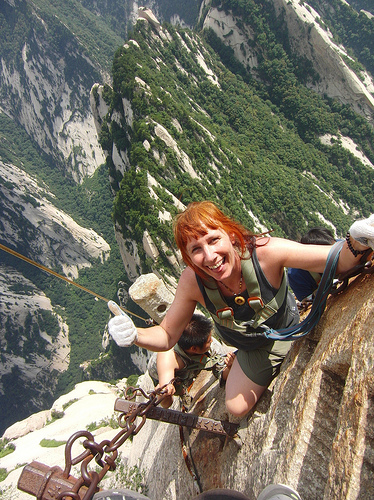 I took the opportunity to climb Hua Shan in Shaanxi province as I heard it is an awesome hike, and it didn't dissappoint. Then after spending a day in Xian, I took a 5 hour bus ride to Wudanshan.  On the mountain I lived and trained with a Taoism  teacher who is also the director of the Wudanshan Taoist Association. His rooftop training school an hour bus ride from the bottom of the mountain, 100 metres before the road ends at the South Cliff peak of Wudang Mountain.
My teacher and guide, Lao Gu,  is a wonderful human being!  He is incredibly insightful and wise and extremely kind. Before opening his own school he worked as a tour guide on the mountain. His experience, along with his Taoist beliefs means that he knows the history of just about every temple on the mountain and the 'secret' footpaths which link one to another, well away from the concrete tourist paths and ice cream sellers!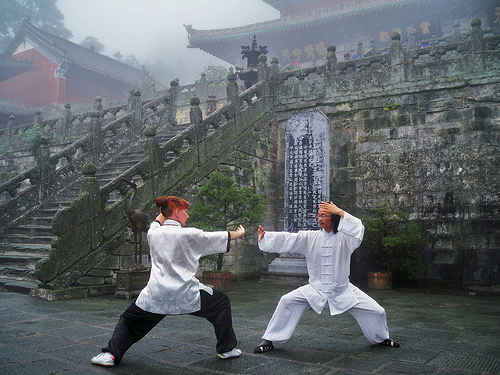 Some of my best memories of my time with Lao Gu are trotting clumsily along behind him as he effortlessly sprinted up the steep rocky footpaths whilst sharing Taoist stories and philosophy with me. Upon reaching a deserted temple, after the last of the tourists had left for the day, we would practice Wudan Style Tai Chi Chuan together. On one occasion we visited Lao Tsu's Temple for a talk on Taoism and then practiced Tai Chi there. On another occasion we practiced at the Purple Cloud Palace. During one mountain walk, he told me of a cave where his own master spent several years in contemplative seclusion, in the famous hermit tradition of Wudangshan. Later, whilst hiking in my spare time and exploring the mountain, I came across his Masters cave, on the steep south cliff of Wudangshan. Amazing!  Lao Gu appeared in the 2010 remake of Karate Kid movie which starred Jackie Chan and he took me to several of the film locations and told me their history.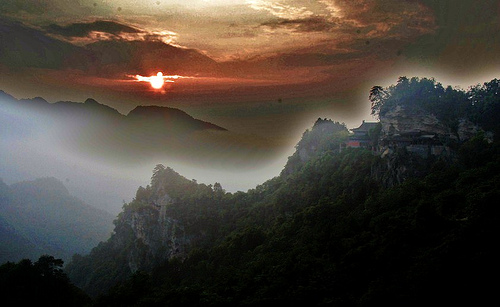 Training at the Taoist Wellness School consisted of 4 periods a day on the rooftop training terrace. This overlooks a deep tree covered valley and some craggy peaks - so very typically Wudang. Pre breakfast "Taoist health preserving Exercises" were especially mystical, as the night gave way to the sun rising above the swirling mists that clung to the mountains. I don't think i have ever experienced a more 'magical' place on Earth!