| | |
| --- | --- |
| Posted on January 1, 2012 at 7:45 PM | |
8th August 2011
After returning from my Wudangshan trip I began training in earnest for the competition. I was being entered in two sections - Chen Taijiquan empty hand form section and the Chen weapons section (performing the Dao /Broadsword routine). Training was stepped up and some extra1:1 evening  training sessions were added.
The annual competiton, held in Yantai City - about 2 hours drive from the school, started at 8.30am and wrapped up around 4pm with participants coming form all over the Province, young and old. Some of the competitiors were phenominal martial artists with skills I imagine they have been honing from a very young age. The competition was held in a large sports centre and it was an experience to perform in front of a panel of about 20 judges and a crowd of about a thousand people who had come along to watch. All in all about 30 teams totalling about 300 people from around the Province had entered with ages ranging from about 7 to 70. In every spare corner there were marial artists stretching out, running through forms or getting a last minute lecture from their coach.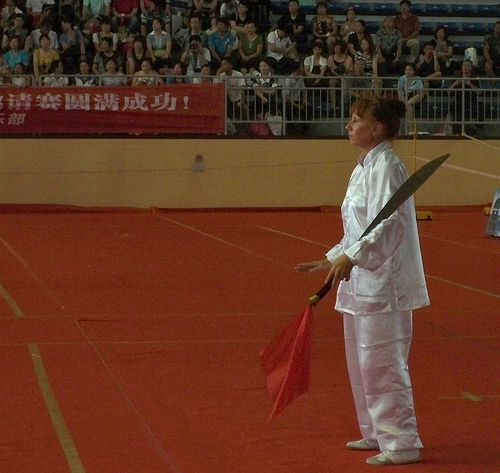 My nerves kicked in a little as I walked out to the 'x' to start my form. An unexpected surprise was that my form had to be cut down to fit within the 3 minute time limit, something i found out about a minute before my turn. 
After our performances we had to wait several hours until the prize giving ceremony to discover our scores. For the Hand Form I scored 8.65 (from 10) and for the Dao form I did a little better, getting 8.85. Luckily, both scores were good enough to gain a gold medal.